Are you in need of a CAD outsourcing services or Service Provider?
Look no further. Florida Drafting Services is your one stop Provider for all of your CADD Drafting outsourcing and outsource services!
Our Professional Civil, Mechanical and Architectural staff are ready and capable of handling any job
no matter how large or small. Our services can be used on a contract or subcontractors Hourly rate or Lump Sum job billing. Most small revisions are done at no charge and the work is not done until you are satisfied with the results. Contact us today for a Free Consultation or Quote through our Webform on the "Contact Us" page.
In addition to our standard AutoCAD drafting Services we also provide the following: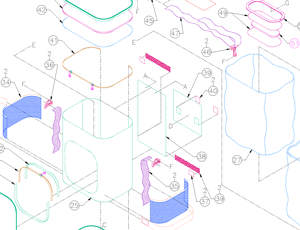 CAD Outsource Services and CAD Drafting Outsource providers
Land Desktop Drafting and Design Outsourcing Services
Autodesk Civil 3D Drafting and Design Outsource Services
SolidWorks modeling and desing Outsource Services
AutoCAD Inventor Drafting and Modeling Outsource Services
Graphic Design Outsource Services
CAD File Conversion and File VERSION Conversion Services
Space Planning Drawings
Accident Reconstruction Drawings
Trial Graphics Drawings
Presentation Graphics
Photoshop Graphics and Photo retouching
Illustration and Line Diagram drawingsv
Much More so if you don't see it listed here then Please ask us!
Why Outsource your CAD Drafting and Graphics design?
You have more time focusing on New Jobs and Bids
Less Overhead Costs
Less Staffing and HR Problems
Faster Turnaround
Best use of new technology such as the Internet and Email
Broadens your range of experience without having to hire additional personnel
Your Competition is most likely doing it to keep bids low and to qualify for bigger jobs
Ability to use the latest Hardware and Software versions without constant and expensive upgrades.
Contact us today and let us know your needs. Together we will develop a plan to best fit your needs and schedule.
Use our contact form to tell us more about yourself and how we can help you.